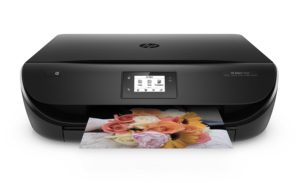 I don't often recommend products because there is just so much mediocrity in technology out there, especially when it comes to printers. I hate being a slave to expensive ink cartridges these companies cash in on by wheeling and dealing cheap printers that only last a year or two.
In thinking about most of my clients which have a need for a simple printer with wireless capability and inexpensive upkeep (ink), I found a printer I immediately fell in love with it's simplicity in setup and use. The product is HP Envy 4520 and it comes in at less than $100, depending on the deal you find.
Cheaper, simpler ink
The HP Envy 4520 uses a two ink cartridge system that beckons to a simpler time in inkjet printing.  These days many of the featured printers that you receive as part of a computer purchase have three cartridges for color at at least one cartridge for black ink.  Although it may be helpful to have the option to replace one color at a time, the initial cost for ink goes up significantly for this style.
Setting up wireless printing
The next gripe I continually have with printers is the ease of setting up the wireless function.  Many wireless printers require being plugged into a Mac initially in order to setup properly, which is totally ironic to me.  The HP Envy 4520 excels in that it works over Apple's proprietary AirPrint technology so that setup is an absolute breeze for Macs.  You simply go to the printer settings, add a new printer and the 4520 should be noticed and able to be added with 1-click.  The same easy process is available for Apple iPhone and iPad devices.
Wireless reliability
Another pain point, while we're on the topic of wireless, is the reliability and consistency of availability in the home.  The other printers I have owned, would periodically shut off and then I would have no way to print wirelessly to them without making a journey to the machine to wake it up.  Kind of defeats the purpose of wireless, right? The 4520 has, to this point, been immediately responsive whenever I print to it even after long periods of inactivity.
Touch screen, print quality
Other notable wins for the HP Envy 4520, The touch screen is simplistic, black and white, and only the essentials of what one would need in a home printer.  The print quality is great for documents, acceptable for photos.  For photo printing, given the cost of ink, I'm more likely to have them professionally printed for very cheap at a Costco, CVS or other print shop.
For all these reasons and more, I consider this the best home wireless printer.  I deliver and setup this printer in many of my clients homes.  It takes less than an hour and the printer is extremely cost effective.  If you would like to get setup with a 5-star reviewed product and personalized concierge setup and training, book an appointment using the button on the top right.
Otherwise use the link at the top to purchase the printer through Amazon.  Its an incredible value and a printer, I personally, am excited to recommend.